What's The Walking Dead about?
The Walking Dead is an American horror drama television series developed by Frank Darabont, based on the comic book series of the same name by Robert Kirkman, Tony Moore, and Charlie Adlard. Andrew Lincoln plays the show's lead character, sheriff's deputy Rick Grimes, who awakens from a months-long coma to confront a new, apocalyptic world overrun by flesh-eating zombies.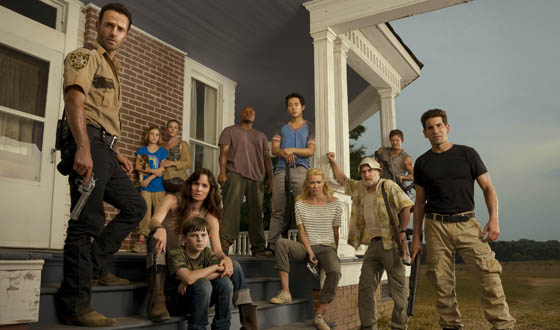 Grimes reunites with his family and becomes the leader of a group he forms with some of the many other survivors whom he encounters in his quest for a safe haven. Together they are forced to survive and adapt in a world filled with the zombies (aka walkers) and certain humans who are even more dangerous than the zombies themselves. The first season takes place in the Atlanta metropolitan area, and the second through fourth seasons are set in the surrounding countryside of northern Georgia.
The Walking Dead has the highest total viewership of any series in cable television history, including its fourth and fifth seasons during which it averaged the most 18- to 49-year-old viewers of all cable or broadcast television shows. Total viewership for its season five premiere was 17.3 million, the most-watched series episode in cable history.
The Walking Dead Returns October 11th on amc.
Source: wikipedia.org
---