What's Fear the Walking Dead About?
Fear the Walking Dead is an upcoming television series created by Robert Kirkman and Dave Erickson scheduled to premiere on AMC on August 23 2015. It is a companion series to the horror drama television series The Walking Dead which is based on the comic book series of the same name by Robert Kirkman, Tony Moore, and Charlie Adlard. AMC greenlit the pilot to series on March 9, 2015 with a two-season commitment.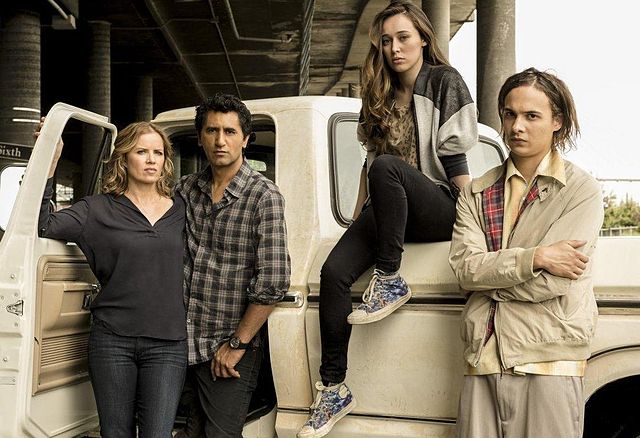 The show is set in Los Angeles, the series follows a divorced male teacher named Travis (Cliff Curtis) and his fiance Madison who is a female guidance counselor (Kim Dickens), and her two children Alicia (Alycia Debnam-Carey) and Nick (Frank Dillane) during the zombie apocalypse.
Production of the pilot episode began in early 2015 and ended on February 6, 2015. The pilot episode was filmed in Los Angeles and the remaining first season episodes will be filmed in Vancouver, British Columbia. Production began on the remaining five first-season episodes on May 11, 2015, in Vancouver. Adam Davidson, who directed the pilot, will also direct the series' second and third episodes.
Main Cast
Kim Dickens as Madison Clark.
Cliff Curtis as Travis Manawa.
Frank Dillane as Nick Clark, Madison's son.
Alycia Debnam-Carey as Alicia Clark, Madison's daughter.
Elizabeth Rodriguez as Liza, Travis's ex-wife.
Mercedes Mason as Ofelia.
Rubén Blades as Daniel, Ofelia's father.
Lorenzo James Henrie as Chris Manawa, Travis and Liza's son.
Recurring Cast
Sandrine Holt as Dr. Bethany Exner.
Maestro Harrell as Matt, Alicia's jock boyfriend.
Patricia Reyes Spindola as Griselda, Daniel's wife.
Colman Domingo as Strand.
Shawn Hatosy as a military man.
Source: wikipedia.org
---